Why is the fashion industry creating metaforces?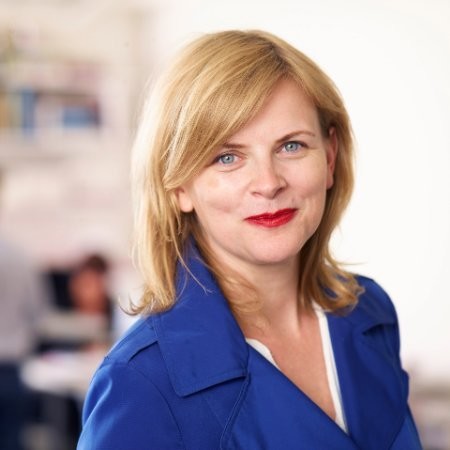 Ulla-Karin Barrett
I am guessing your first question is: What in heavens name is a metaforce?
Well, you may remember how marketing departments created teams for social media and influencers a few years back. Now it's time to recruit people who can create relevant content and brand communication in the metaverse. Today there are already 88 people with the title Chief Metaverse Officer. Brands like Balenciaga, Adidas or Nike have been trailblazers in the cross section between fashion and virtual worlds. They see it as a way to find new revenue streams, but also to create a more sustainable fashion industry. When avatars are a part of our daily lives, digital fashion becomes more important.
The growing business of metamerch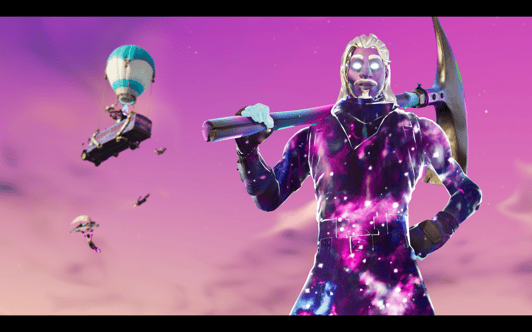 The Samsung Galaxy Skin cost $900. Photo: Cannes Lions Love the Work
If you are a gamer you know that when it comes to your avatar, it's very much about skins. Skins have been around for a while and they usually cost around $30-50. A few years ago Samsung created what is known as the most expensive skin ever: Galaxy. Fortnite players actually had to own a Samsung Galaxy mobile phone, costing up to $900, just to get the skin. You also got a bundle with a back bling, a slider, and a harvesting tool (whatever that can be used for, yikes!). And many gamers gladly bought new phones. A sure sign that metamerch is going to be a growing business.
Take Roblox for example. In the first quarter of 2021, there were 42 million daily Roblox users. They spent 10 billion hours playing and $652 million on its in-app currency Robux, which is used to unlock virtual items such as clothing for avatars. 15% of Gen Z's "fun budget" is spent in the metaverse and that number will be 20% within five years. By 2026, 25% of consumers will spend at least an hour a day shopping, socializing, being entertained and learning things in the metaverse.
Meetings between the pyshical and virtual worlds
"Virtual identities are real identities. Your virtual identity might represent your true self more accurately than your physical self", says Davis Chalmers, professor at NYU. We all know that one of the most visual way of expressing who you are is what you wear. This insight has inspired many brands lately.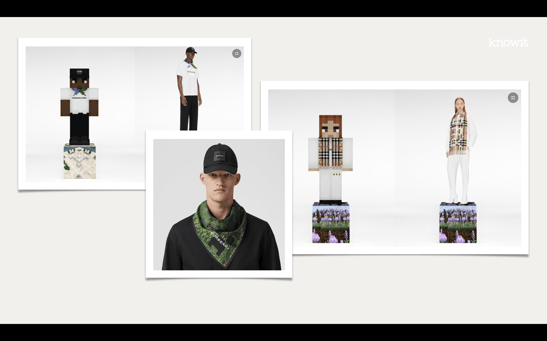 Burberry's collaboration with Minecraft. Photo: Cannes Lions Love the Work
Last fall saw the start of a collaboration between Burberry and Minecraft. It, too, was a meeting between the physical and virtual worlds. They pixelated some of Burberry's iconic pieces and patterns so you could buy them digitally for your avatars in Minecraft. But you could also buy, among other things, a Minecraft inspired scarf for $250 (the cheapest product in the collection) in bricks and mortar Burberry stores.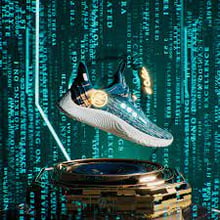 The Genesis Curry Flow meta sneaker. Photo: Cannes Lions Love the Work
In 2021, the sports brand Under Armour teamed up with basketball star Steph Curry and launched the Genesis Curry Flow. They called it the first meta sneaker, a wearable NFT, that you could own and use in different metaverses such as Decentraland, Gala and Sandbox. On launch day a digital locker appeared, containing unique versions you could purchase.The Genesis Curry Flow sold out quickly and raised $1 million for charity in 10 minutes. The sneakers' starting price was $333, but rose quickly up to $55.000 on the NFT marketplace OpenSea, creating an additional $17 million in secondary revenue and a whole new revenue stream for the brand.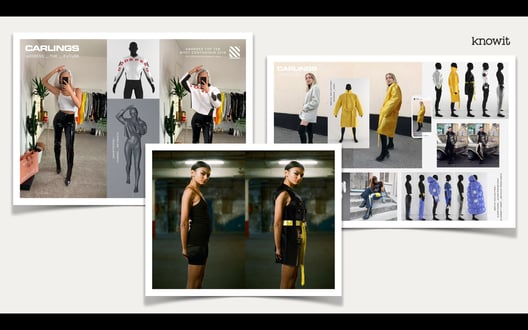 Carlings virtual collection. Photo: Cannes Lions Love the Work
A few years' back, the Danish brand Carlings launched what they called a "Digital clothing collection with zero environmental impact". It was a marketing strategy to promote their new e-commerce, but the technology was amazing. You could buy digital clothes during an exclusive one month period, that you could then apply to your social media profile. For many influencers this was a way to update their wardrobe without having to buy any actual clothes.
All three examples show the possibilities for clothing brands to promote a digital consumption that doesn't produce as much of a CO2 footprint as "traditional" fast fashion. As our avatars become extensions of ourselves, designers are quickly learning that a virtual summer collection should be shown on runways in Paris as well as in Minecraft.
Want to now more about other possibilities within sustainable tech? Get in touch.
---