An introduction to Sales and Operations Planning
Marie Nordin
Over the past few years variations in both demand and supply have increased drastically, making demand and supply planning even more important to meet customer expectations. As interest rates have surged for the first time in many years, keeping high inventory levels as a buffer for poor planning is expensive. Having a stable process for demand and supply planning is key to secure sales, delivery service and keeping a good inventory mix.
In this article we will go through the basic theory of the Sales and Operations Planning process and provide a list of key elements for a successful implementation.
Our ambition is that you will find this article interesting no matter if you work in a smaller or larger company. As we see it, the basics are the same and having a process in place is important regardless of company size.
The supply chain's end in mind
Management experts say that successful organizations define their "Why" or their "end in mind". What is the "Why" and the "end in mind" for a supply chain?
For us at Knowit Capacent, end in mind for supply chain is supporting the business in a resilient and sustainable way. To do that, supply chain leaders need to understand not only the supply chain, but also the business, the customers, and the priorities of the organization. With that knowledge commercial set-ups can be challenged, the supply chain perspective added, and the business supported in a resilient and sustainable way.
The supply chain organization needs to take the lead in securing the sales and operations planning process. When we do that, we enable a process providing us with business knowledge in the format and timing we need it, such as unit forecasts and taking lead times and capacity constraints into consideration.
What is Sales and Operations Planning?
Sales and Operations Planning is the process for balancing the demand and supply, securing one aligned picture of how supply chain can meet the customer demand.
In this article we are using the term Sales and Operations Planning, but there are many different terms being used. The different terms are related to the maturity of the process, where Integrated Business Planning is a mature process.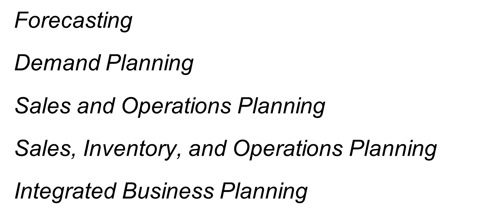 The Sales and Operations Planning process
Sales and Operations Planning is an iterative process, a cycle. Most common is a monthly cycle with a planning horizon of 12 -18 months. A monthly cycle gives regularity and in many businesses data is available on a monthly basis. Reviews of assortment, margins and customers are preferably added every 6-12 months.
Below is a guide for each step of the cycle.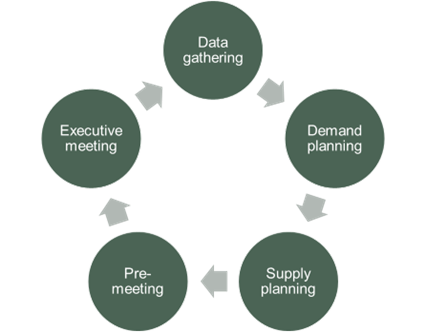 Data gathering


The basis for all decisions is data. Data is key. Different businesses have different sales patterns, prerequisites, and data. Map and structure the sales and market data available to you, add strategic plans for the business such as growth, entering new markets or other important information. Historical data is a good starting point. Other useful data is customer sales data and customer inventory data. For some businesses there are specific suppliers of point of sales data.




Demand planning
Once the data has been collected the planning starts. The demand plan is commercial's wish list. What would we like to sell and when. This is also called the unconstrained demand. Have meetings with marketing and commercial to understand, review and align the forecast numbers. Make sure to separate the meetings per business unit, sales unit, or part of the product portfolio to ensure the meeting is relevant for all participants.



The data analysis will show if you are underperforming or overperforming compared to previous forecasts and raise questions about forecast changes needed. Are there any specific sales or marketing activities planned going forward? Are competitors having delivery issues or promotional activities? In some businesses customer inventory levels provide useful information.




Supply planning
Once demand planning has been completed, supply planning starts. What capabilities do suppliers and production have and how much do we have in stock? Can we deliver the full unconstrained demand, or do we need to make prioritizations? The outcome of supply planning is called constrained demand. The reason for the constraint can be a part of production, a specific component or raw material and can affect the entire product portfolio or parts of it. Be clear in your message about what defines the constraints in your dialogue with commercial. Your business defines how to prioritize in the best way. Prioritization can be made based on customer size and importance, product margin, or long-term strategic relationships. Having priorities pre-defined will help the discussions and decisions. Being proactive and suggesting alternatives when there is a constraint often helps the discussions. We see situations where sales and marketing push products that are difficult to produce or source for different reasons. Have an open dialogue about what products in your product portfolio cause difficulties in production or for sourcing.



Another part of supply planning is to flag slow moving or soon to be obsolete stock and together with the commercial organization make plans for sell out to avoid scrapping.




Alignment meeting


Once the supply planning has been made it needs to be aligned and decided upon. Depending on the size and structure of the organization, pre-alignment meetings can be needed before the decision meeting takes place.




Decision meeting
The decision meeting is the last step of the cycle. All participants need to have a clear mandate so that decisions can be made in the meeting. All functions that are part of the process should be included, such as, supply chain, sales, marketing, finance, and the CEO. Below is an example of a meeting agenda.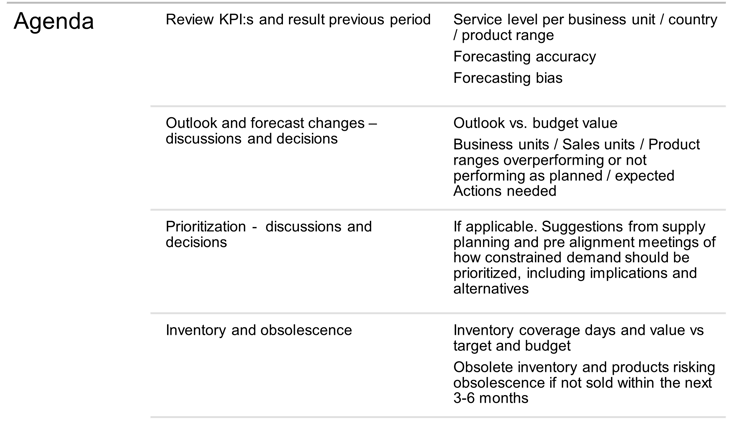 Key points when implementing the Sales and Operations Planning process
Based on our experience, we have summarized nine key learnings when implementing a sales and operations planning process.
Management commitment
It may be one of the more used phrases in management literature, but management commitment is key. If there is not alignment in the leadership team, the journey will be much tougher or in some cases not possible. The CEO needs to be an ambassador and commercial and marketing directors need to walk the talk.


Set up the organization for success
Secure the right sales and operations planning competence, either by recruiting or bringing in consultants. Everyone in the team does not need to be an expert, but having some experience helps. Establish specific demand planning roles instead of adding the tasks to a current role. Analytical skills and structure, together with people management are skills of importance. Often the purchaser has forecasting as part of her/his role and when there are supply issues that need attention, the forecasting part of the work is set aside. The purchaser is often alone in decisions and estimates. Having an interface for discussion and collaboration is beneficial.


Define your KPI:s and targets
What are your targets and how will you measure the status and progress of the sales and operations planning? Forecasting accuracy and forecasting bias are key performance indicators for sales and operations planning, indicating how close the forecast was to actual sales, and if there is a tendency to above or below forecast. Other KPI:s that should improve with improved forecasting are delivery service to customers, inventory turnover, and production efficiency.


Plan your forecasting cycle
What meetings are needed to collect forecast information and verify the forecast? What roles in the organization should attend the meetings? What persons should be part of the final decision forum. Plan for a forecasting cycle of a month. The decision forum is the last meeting in the cycle.


Prepare the data
As a supply chain function, take the lead and make it easy for sales and marketing to give forecasting input, especially in the beginning. It is often easier to give input to available data, than starting from scratch by yourself. Prepare material, suggest forecasts going forward, ask about sales development indexes, promotional activities, new customers, and competition.


Meeting agendas
Prepare clear meeting agendas, participants and expectations on participants, input, and output per meeting. Participants in the final decision meeting need to have the mandate to make decisions.


Continuous improvement
Reflect upon how meetings and the process can be improved. Review meeting agendas and input every 6-12 months. Too frequent changes might confuse the participants.


Grit and patience
Implementing a new process takes time. The more functions and the more complex it is the longer it takes. Baby steps, grit and patience are key.


Celebrate success
Finally, celebrate success! Reflect with the team upon progress and what you have achieved. Key take aways from successful implementations:

The service level and cooperation with customers is a competitive advantage
The organization wants to participate in the S&OP meetings and add value
There is trust in the numbers and the forecast numbers are used as a basis when discussing business development plans and investments
Result and benefits
With a well-functioning sales and operations planning process your supply chain will support the business in a sustainable and effective way. Below is a list of benefits from implementing a sales and operations planning process:
The process enables collaboration in the organization, working in a more proactive way when it comes to customer plans, financial planning, supplier forecasts and production planning

There is one aligned picture of how supply chain meets the customer demand

A tool to manage a profitable product portfolio

Increased delivery service – happy customers

Inventory levels based on product importance and variations in demand

Reduction of scrap and obsolete material

Basis for investments
We hope this article has given you inspiration and take aways on your Sales and Operations Planning journey. Do you need support in your organization? Please reach out to us and we will be happy to discuss the topic further!
---
About the author
Marie Nordin
Marie is a management consultant working with Knowit Insight's supply chain and working capital management offer. Marie has 20 years of experience developing supply chains both as a consultant and in line management roles. Contact details: +46 (0)72 245 00 37